Let Us Design A/V Technology for Your
Unique Environment
Since 2005, Unique Media Systems has been serving clients in New England. We provide comprehensive services, from consultation and design to installation and support. We also carry a wide range of audio and video equipment.
Fully Customizable Portable Road Case with any components you might need including video switcher, video recorder, audio mixer, display monitor for viewing the video switcher, network interface with Wi-Fi and any number of other components to help optimize your production system. The Road Case will fit in the back seat of a sedan.
The unit is housed in a rugged case that will hold up under all kinds of conditions.   We can even build you custom cables to interface to either field cameras or PTZ cameras and plug into the unit via a single twist-lock connection.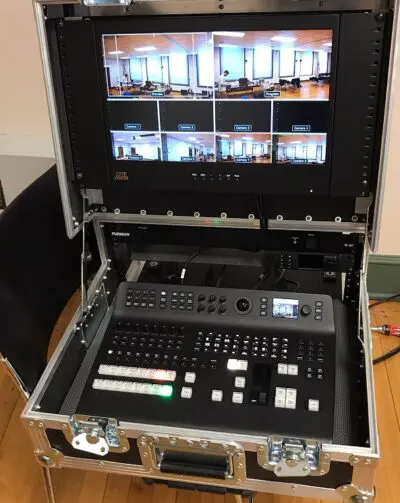 We'd Love To Hear From You
For more information, get in touch with us today. Headquartered in New Hampshire with offices in Massachusetts and Maine, our friendly and reliable team is always ready to address all your questions or concerns. We look forward to helping you with your A/V and broadcast needs.