Customer Reviews About
Our A/V and Broadcast Solutions
Two years ago NCTV in Newport took the plunge and switched broadcast systems from Leightronix to Tightrope Cablecast. It was a huge investment, upgrade and risk. UMS installed the system and had us up and running in a day. Since then I've worked with Michael, Matt and the team many times when we've had problems and needed help with hardware and getting devices to read each other. Their responses are immediate and help as quickly as they can manage. Michael Ridinger has a great team and I am glad that we are working with them.
John Lunn, Executive Director, NCTV
Unique Media Systems goes the distance! The team has assisted us recently with network issues that resulted from major storm-related power outages in town. Not only did they get us back up to full service for our viewers, they continue to pursue solutions to the issues. I am confident and pleased with the support and service we have received from UMS. Thank You.
Alanna Muldoon, Executive Director, Weston Media Center
We shut down our studio in March and were looking for a solution that would enable us to stream Zoom meetings to our channel and continue to offer live programming. Unique Media Systems provided a solution and we were back in business broadcasting live meetings and interviews. Michael and his team have been responsive when called to troubleshoot Zoom and general broadcasting issues.
Sarah Hayden, Executive Director, Greater Newburyport Community Media Hub
Canton Community Television has used Unique Media Systems for several complex jobs. From installation of a new playback system so that we could accommodate our newly contracted HD station, to streaming and the use of video on demand, to fiber cable installs, our growing and expanding needs have been met by Unique Media Systems.
Whenever our stations have faced a complex issue, Unique Media Systems has been there to help us get through it. The physical installations are professional and neat and always followed up by ''as-built" drawings. They have networking help as well as traditional SDI installs, which is needed with today's changing delivery systems.
Most importantly, the work Unique Media Systems does is collaborative. You as the customer explain your needs and hopes and the company works with you to get there. The professional staff is readily available and always have the technical skills to work out even the most unique technical issues. We have full confidence in their capacities to help us design, deliver and resolve issue to keep our community stations working while delivering local programming in ever-expanding ways.
Tanya Willow, General Manager, Canton Community Television
Our organization has been using Unique Scientific for several years and we could not be happier. Michael and his team are prompt, effective, and their pricing is fair. Their knowledge and professionalism has helped us with all of our video, audio, and technical needs. They are essential to what we do.
Steve DeCarlo, City of Somerville
For almost a decade now, we have relied on Unique Media Systems for all of our engineering and equipment needs. The planning and design are well thought out with full consideration being given to both the end-users and the space that this equipment occupies. There are no shortcuts here, and work is done with precision and care by the knowledgeable staff performing this work. Working with Unique Media Systems during this time, we now have both a state-of-the-art community television facility and robotic camera-equipped municipal meeting rooms for coverage of local meetings and events. For a smaller PEG Access Television facility, this type of service is key to working within the tighter budget constraints we have to work with. Their work is completed thoroughly on time and under budget. They've even repaired and upgraded other installations that I would have previously considered sub-par until Unique Media Systems performed the necessary repairs and upgrades. There is really no one else we prefer to work with, and they've always come through for us whenever needed.
Robert Carbone, Executive Director, Norcam, Inc
We worked with Michael on upgrading our Cablecast system that hadn't been really upgraded in about five years. Our old systems were using Windows 7 Pro, and were constantly running out of space.
Michael helped pull us into 2021! Right before the New Year we started our new online streaming service and were able to pull off a night of 4 hours of original pre-recorded and live programming and all of it streamed to the community. It was a rousing success, met with many kudos from the city!
Cablecast has been there hand in hand with us through our upgrade process, and we look forward to continuing to work with them in the future as we bring the rest of our systems up to date.
Thanks Michael – you guys have been great!
Joshua Nelson, Executive Director, Claremont Community Television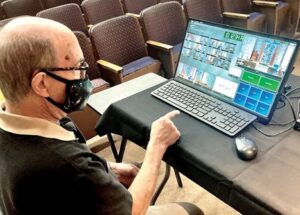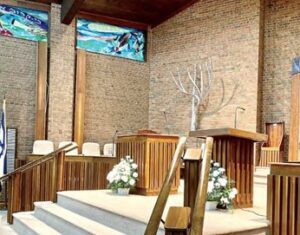 DURING THE PANDEMIC, MANY
organizations that started streaming their services realized it wasn't just about getting online, but also the quality of the video production that would keep congregations engaged. Temple Beth Am, Framingham, a Boston-area reform Jewish temple, was just such an organization, and decided to install a StreamingPix content production and streaming solution from Broadcast Pix to maintain high-quality communications with its congregation.
The temple holds Sabbath services every Friday evening and Saturday morning, plus a range of other religious events and
community social events, which had to be curtailed or moved to online Zoom meetings because of the pandemic.
"Once people were no longer allowed to attend services in- person, our leadership immediately began conducting services on Zoom from their homes," says Bill Rabkin, a member of the congregation who also works as technical director for Temple Beth Am. "That continued through the fall and our High Holidays of Rosh Hashana and Yom Kippur."
Rabkin then started borrowing cameras and tripods through his involvement with the local Framingham public access community media station. These first virtual services were well- received by the congregation, but Rabkin knew he couldn't continue borrowing cameras every Friday night, so they started using iPhones to capture services, which worked as an adequate solution for several weeks.
"By now, the temple realized both the value of bringing services
online and also the value of creating higher-quality video productions," Rabkin adds. "Rather than simply sticking an iPhone on a tall tripod in front of the rabbi and cantor, we decided it would be an appropriate investment to have a permanent installation of professional video equipment."
Working with Marty Feldman at systems integrator Unique Media Systems, Rabkin explored video.

has an additional HDMI input. "For special events, we can bring in an HDMI camera and locate that on the opposite side of the sanctuary to capture a third angle," Rabkin shares. "Or that third input could be a laptop running video or PowerPoint slides so we can roll in live footage or any multimedia data source." StreamingPix also has direct IP connections to Zoom, YouTube
and other platforms, enabling simultaneous livestreaming of the production.
Although the temple has now re-opened for in-person services, plans are continuing to provide a hybrid "physical/virtual" mix based hall," Feldman explains. "We mounted a camera in the center in front of the airwall, and also on one of the side walls to give members a side angle and straight-on view."
Further enhancing that perspective are the zoom capabilities of the system's RoboPix cameras. "Even though they are mounted about 10–12m back in the sanctuary, we can zoom in for a nice tight 'news anchor' shot with plenty of detail." Immediately after the installation was completed, everyone saw the difference in image and production quality. "We were still in the midst of the pandemic so there were only two of us in the temple," Rabkin says. "But these services were even more highly received by the participants than the previous year when we were using our borrowed TV studio cameras."
With StreamingPix, the temple can easily change views during a service and also create recallable presets for frequently used camera settings. "We can pan and swivel to capture anything we need," he adds. "When we have an event in the social hall,
we simply rotate the cameras 180° to pick up whatever is happening there and do the same for services." The Broadcast Pix Commander control software runs in a browser, enabling users to control a show using a PC or Mac, smartphone
or tablet device. "I can control the cameras and make adjustments from anywhere in the temple, or from my home or office," describes Rabkin. "Our volunteers also use it. One member will often sit in the pews next to his wife tapping on the tablet to select the shots that we want during prayer."
Besides inputs for the two mounted cameras, StreamingPix on favorable responses from the congregation; attendance has grown significantly since March 2020 when the doors closed.
"We're seeing 40 or 50 Zoom screens at services, with many having multiple participants, and that's in addition to whatever number of people attend in-person," adds Rabkin. "It brings the community together and keeps everyone connected, whether they're attending in-person or away from Framingham."